Crispy Flavored Sheep And Lentils
3 min read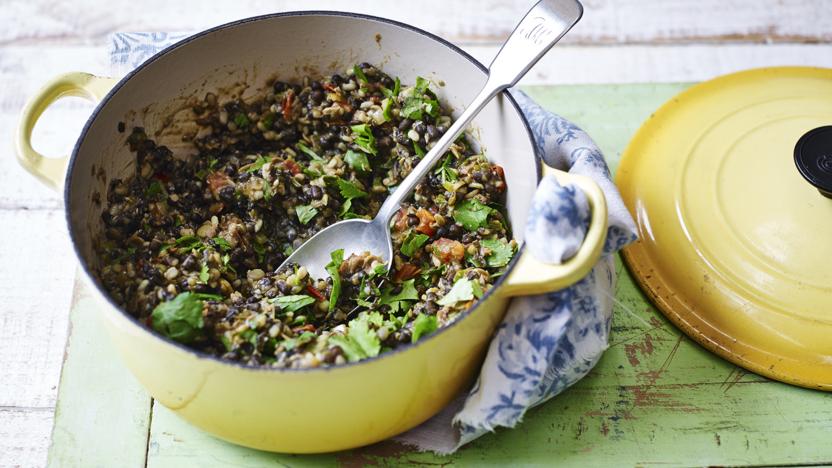 I made these lettuce cups spontaneously for supper the previous evening, and I'm so happy I did because I could see them going quickly into a normal turn. I think ground meat is underestimated in the speedy supper class and am continuously searching for what should be done with it. This cooking strategy, wherein you smooth it out in a boiling dish and cook it until it's browned and fresh on the two sides, resembles the most astonishing aspect of a Fake Shack Burger. I'm almost certain, similar to the time I found the crispy egg and couldn't quit discussing it, I'm simply going to need to cook it like this for the present. Here it is some tips for cooking light recipes.
Crispy Spiced Lamb and Lentils
SERVINGS: 4
TIME: 30 MINUTES
One of the numerous things I like about this dish is that I figure it might be made with all sheep or all lentils. I didn't observe that the lentils got fresh. Nonetheless, however firm little ones add an incredible surface.
CRISPY LAMB AND LENTILS
One tablespoon of vegetable oil
1/2 pound ground lamb
Kosher salt and freshly ground black pepper
Two garlic cloves, minced
Red pepper flakes, to taste
1/2 teaspoon cumin seeds or a heaped 1/2 teaspoon ground
1/2 teaspoon ground coriander
1 1/2 cups cooked brown or green lentils (from a scant 1 cup dried)
ASSEMBLY
8 to 10 cup-shaped leaves from 1 medium head bibb or butter lettuce
Tomato-cucumber "relish" salad
Lemon-tahini dressing, with or without yogurt, or 1 cup plain yogurt, seasoned with salt and pepper
A couple of tablespoons of chopped fresh herbs such as parsley, cilantro, and mint, or a mixture thereof
Make crispy sheep and lentils: Heat a large skillet over medium-high hotness. Once hot, add oil, and when oil is hot, organize sheep in a large even patty around 1/4-inch thick. Season with salt and pepper. Cook until underside and browned and exceptionally fresh, around 5 minutes. Cautiously pour off the majority of overabundance fat and dispose of it. Flip meat into spatula-sized parts, sprinkle top with garlic, a decent touch of red pepper chips (up to 1 teaspoon for genuine hotness; I utilized 1/4 teaspoon), cumin, and coriander, in addition to more salt and pepper, and cook until underside is browned, which ought to take more time to 3 additional minutes. Use a spatula to break sheep into more modest pieces and add lentils. Cook, mixing sporadically until sheep is cooked through, around 2 minutes more. Move sheep lentil blend to a bowl.
To collect: Arrange lettuce leaves on a platter and gap sheep lentil combination. Present with hot sauce, if wanted. Top with yogurt, tahini, yogurt-tahini sauce, tomato-cucumber relish, and spices.
Additional items: To make a tomato-cucumber "relish" salad: Chop a modest bunch of tomatoes and one large or a couple of more modest cucumbers into tiny pieces. Finely slash 1/4 a medium red onion. Blend vegetables and onion in a bowl and dress to taste with olive oil, new lemon squeeze, salt, and pepper. Regardless of the amount it resembles, I guarantee it will be gone before the finish of the supper.
To make a lemony-tahini yogurt dressing: Whisk four tablespoons all around blended tahini in the lower part of a bowl. Whisk in the juice of 3/4 of a lemon, one minced garlic clove, and three tablespoons of water until smooth. Whisk in 2/3 cup plain yogurt, around 1/4 all at once, until smooth—season with salt. Change everything to taste.
To make a lemony-tahini no-yogurt (so not thick and velvety, yet at the same time brimming with flavor) dressing: Combine 1/2 cup all-around mixed tahini, one minced garlic clove, juice of 1 lemon, and two tablespoons olive oil in a bowl. Whisk in water on a case-by-case basis to slacken; you'll likely need a couple of tablespoons—season well with salt and pepper.